Playing games is a great way to unwind from a hard and long day.
Luckily there are a plethora of options available for you to choose from depending on your mood and preferences.
For relaxing and creating a calm state of mind, aesthetic games are a perfect choice as they are incredibly soothing and simply beautiful to look at.
These games are also easy to get into and can be played for short sessions at a time if you cannot manage to spare hours in your day or you simply don't want to.
I have compiled a list of 10 aesthetic games plus a small extra web app that will make the perfect addition to your daily life.
1. Stardew Valley
Stardew Valley is an open-ended country-life RPG that was developed by Concerned Ape and is one of my favorite games of all time.
The storyline begins with the player inheriting an overgrown farm from their grandfather with the mission to turn it into a thriving home.
The whole game really speaks to everyone that has dreamed of running their own farm, caring for animals, and growing crops.
It is also highly focused on gathering materials, befriending the town folks, completing quests, and fighting in the mines.
Since its release, there have been so many free updates that really expand the game and you can easily spend hundreds of hours in it – I definitely have.
If you enjoyed playing the Harvest Moon series, you will love this game and its nearly endless possibilities.
To make it even more aesthetic you can choose from dozens of mods and change the look of the game if you are playing on PC.
2. Good Pizza, Great Pizza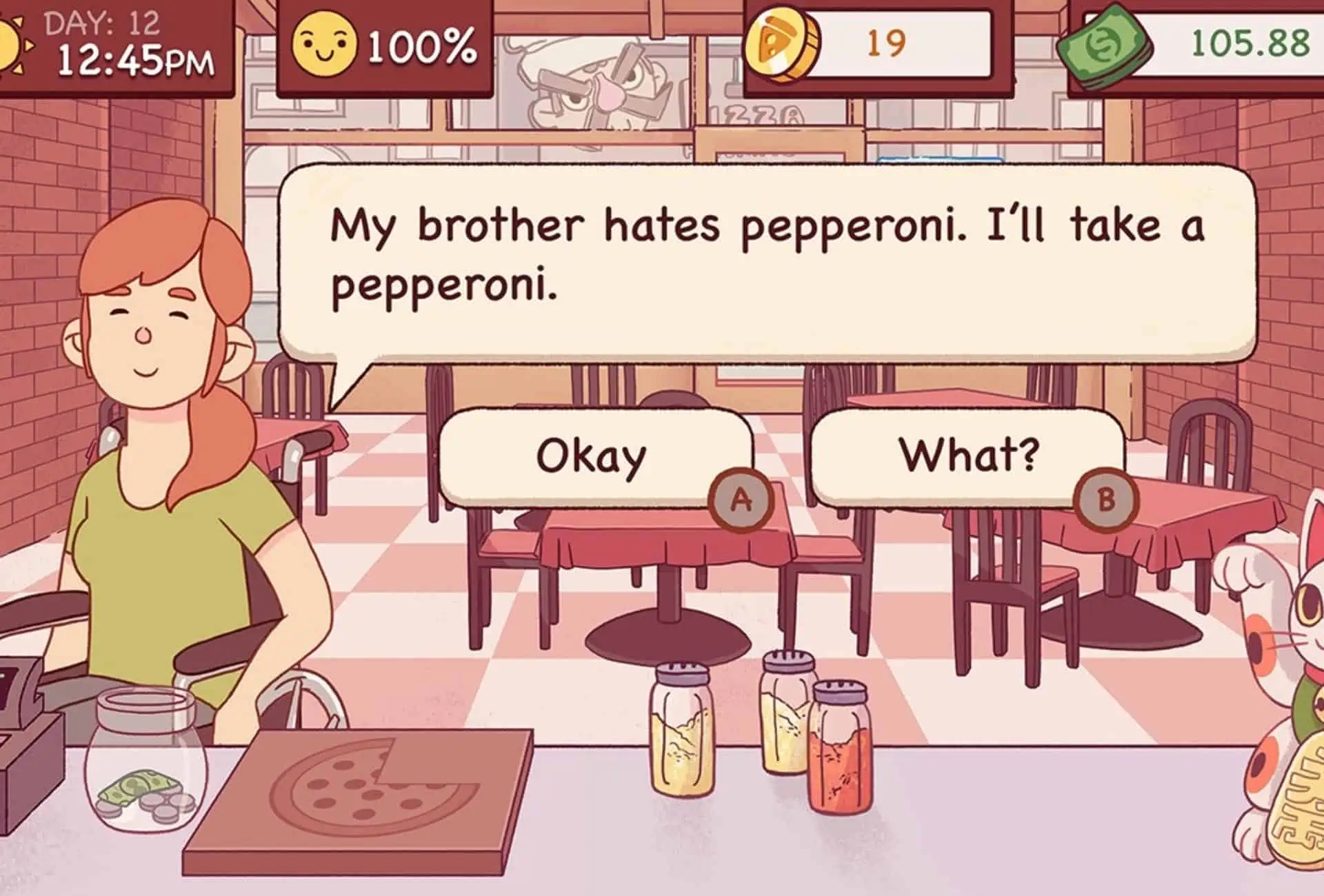 Good Pizza, Great Pizza is a really fun indie game developed by TapBlaze.
In this aesthetic game, you can fulfill pizza orders, unlock new ingredients and receive tips to eventually expand your business.
The art and the music are really awesome and make it hard to stop playing.
It's a real stress-buster that involves everything you could wish for – sweet people and food.
3. Alba: A Wildlife Adventure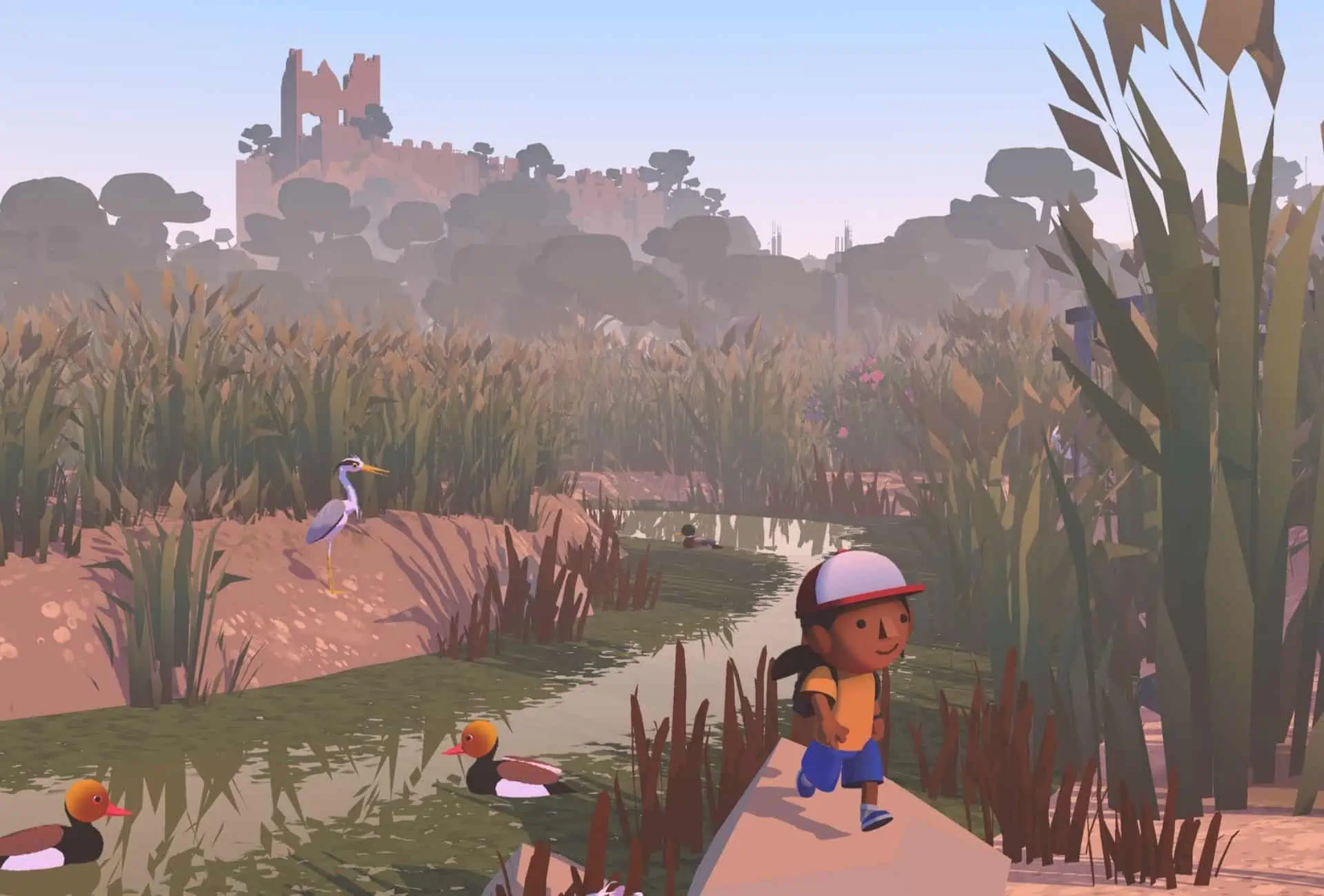 Alba is a game that only takes about 4 hours but makes every minute worth it.
You play the young child Alba that is staying with her Grandparents in Spain.
During this week, Alba is on a quest of conserving the wildlife in the nature reserve and stopping the building of a hotel there.
You will achieve this by identifying every creature in the reserve, picking up trash, and repairing things while exploring the lovely island.
Equipped with an important message, this open world game is really heartwarming and shows what a young girl can achieve with nothing but an old phone and a dream.
4. Alto's Adventure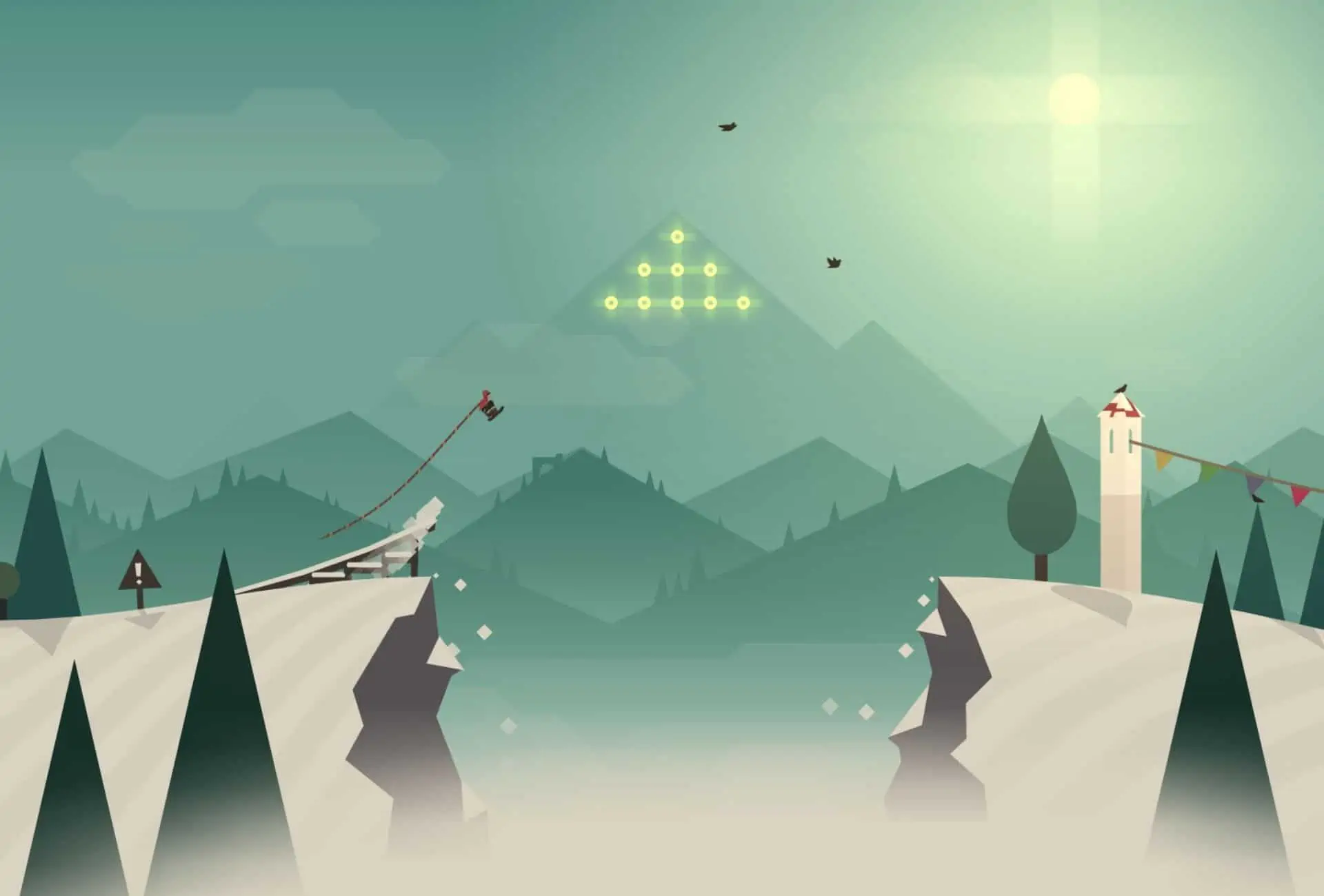 Alto's Adventure is an endless runner game with the goal of catching all your escaped llamas.
The game is set in winter and your only means of transport are the skies at your feet that glide through the alpine landscape.
On your journey, you will come across small villages, woodlands and ruins with changing backgrounds and atmospheres.
It's equally entertaining and challenging and will keep you engaged for hours.
5. Dorfromantik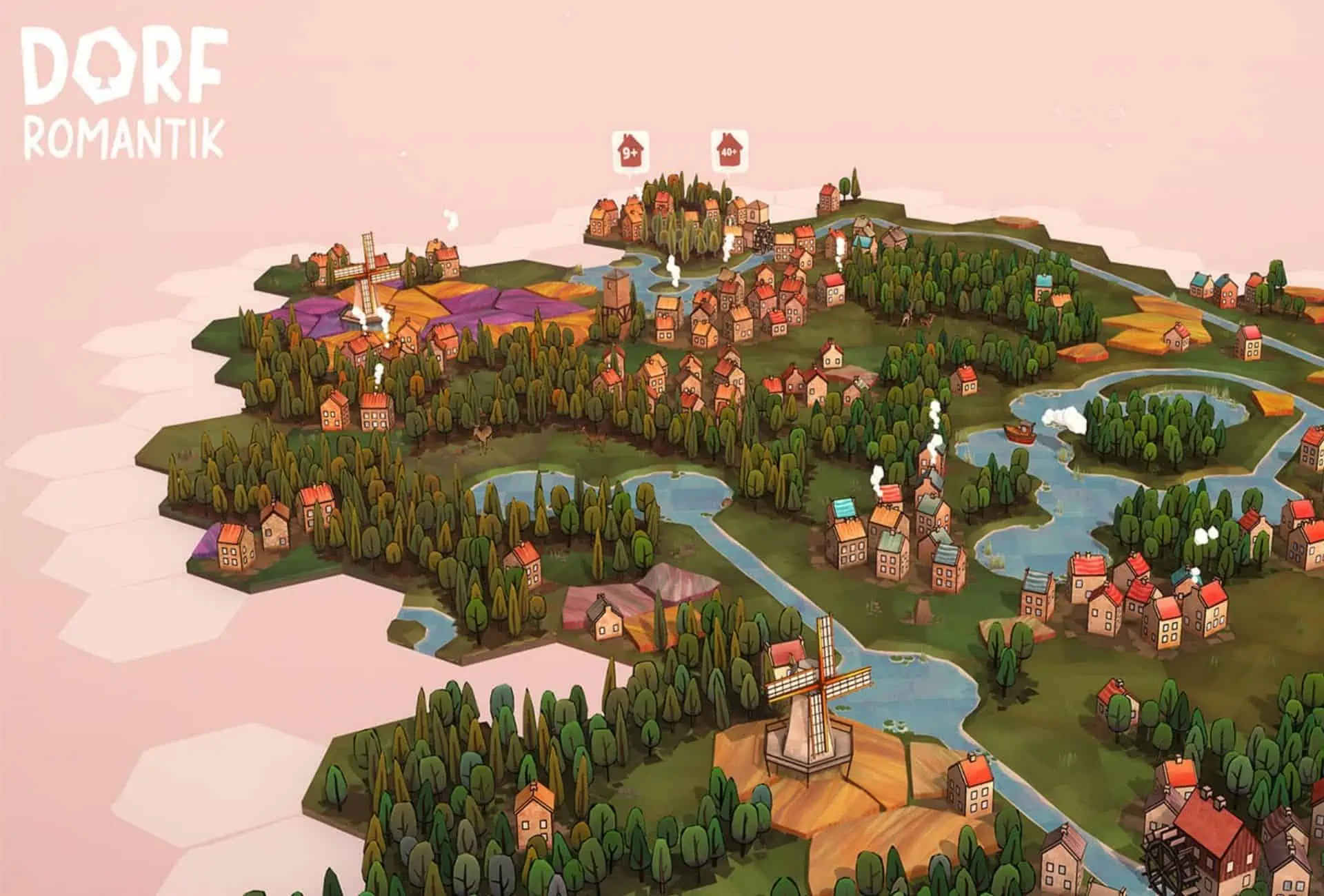 Dorfromantik is a puzzle game where you can build your own city tile by tile.
You will start the game with a selection of 40 hexagonal tiles of various biomes that you will need to place down onto your map to create your desired landscape.
By placing these cards, you will collect points with the goal of maximizing the amount with the tiles you have on hand.
Going through the game, you will receive more tiles with their own unique requirements and challenges.
The music alone is a reason to get this game asap.
6. Townscaper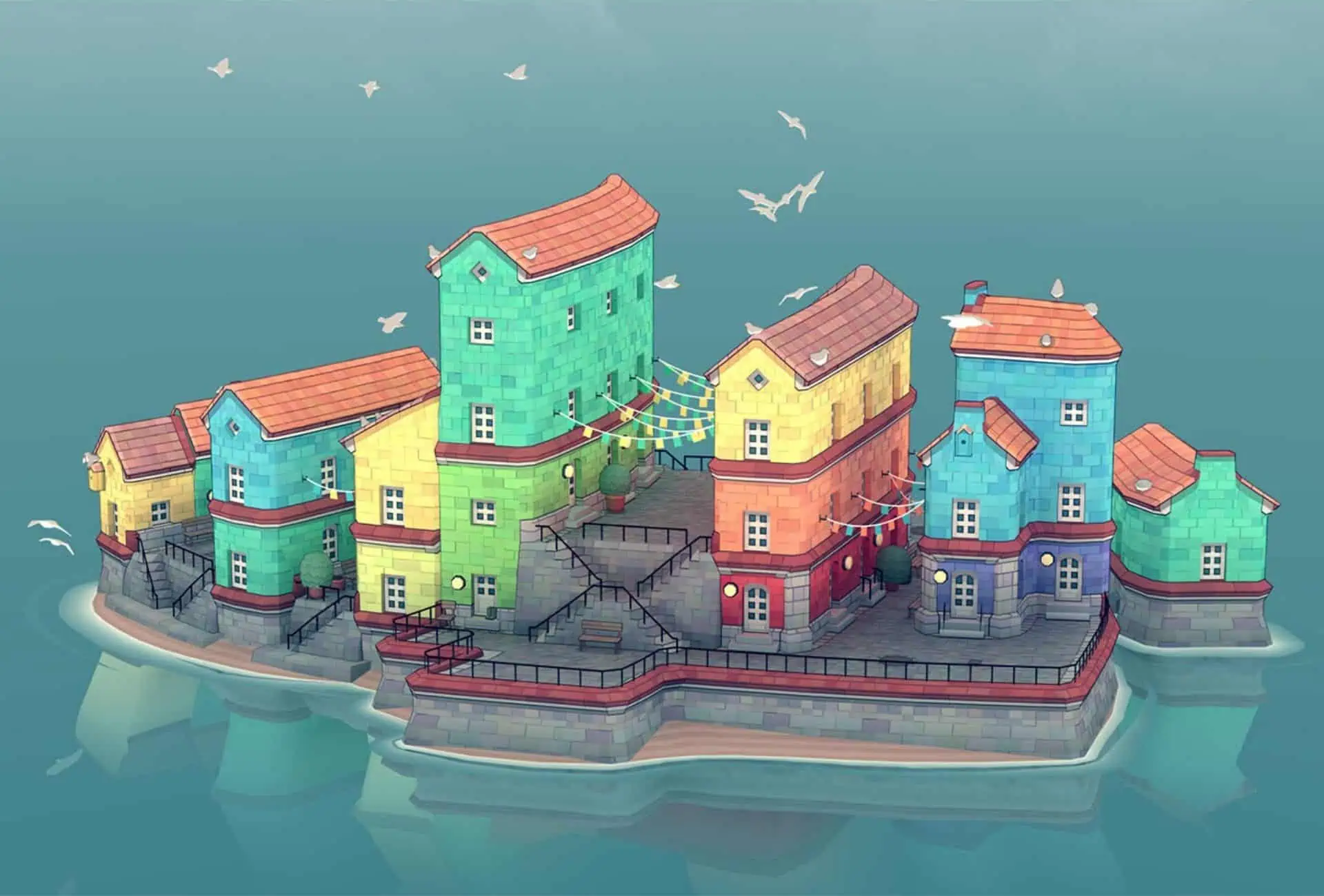 Townscaper is a unique city builder that allows you to create your own quaint town without inhabitants that demand anything.
Unlike most city builders, it is completely set on water and you can expand the villages block by block.
Expanding buildings and curvy streets will change their appearance, enabling you to create tiered levels.
You can also change the colors, daytime, and how the shadows dance across the cobblestone.
A really cozy game that you can pick up multiple times and try new designs.
7. Klepto Cats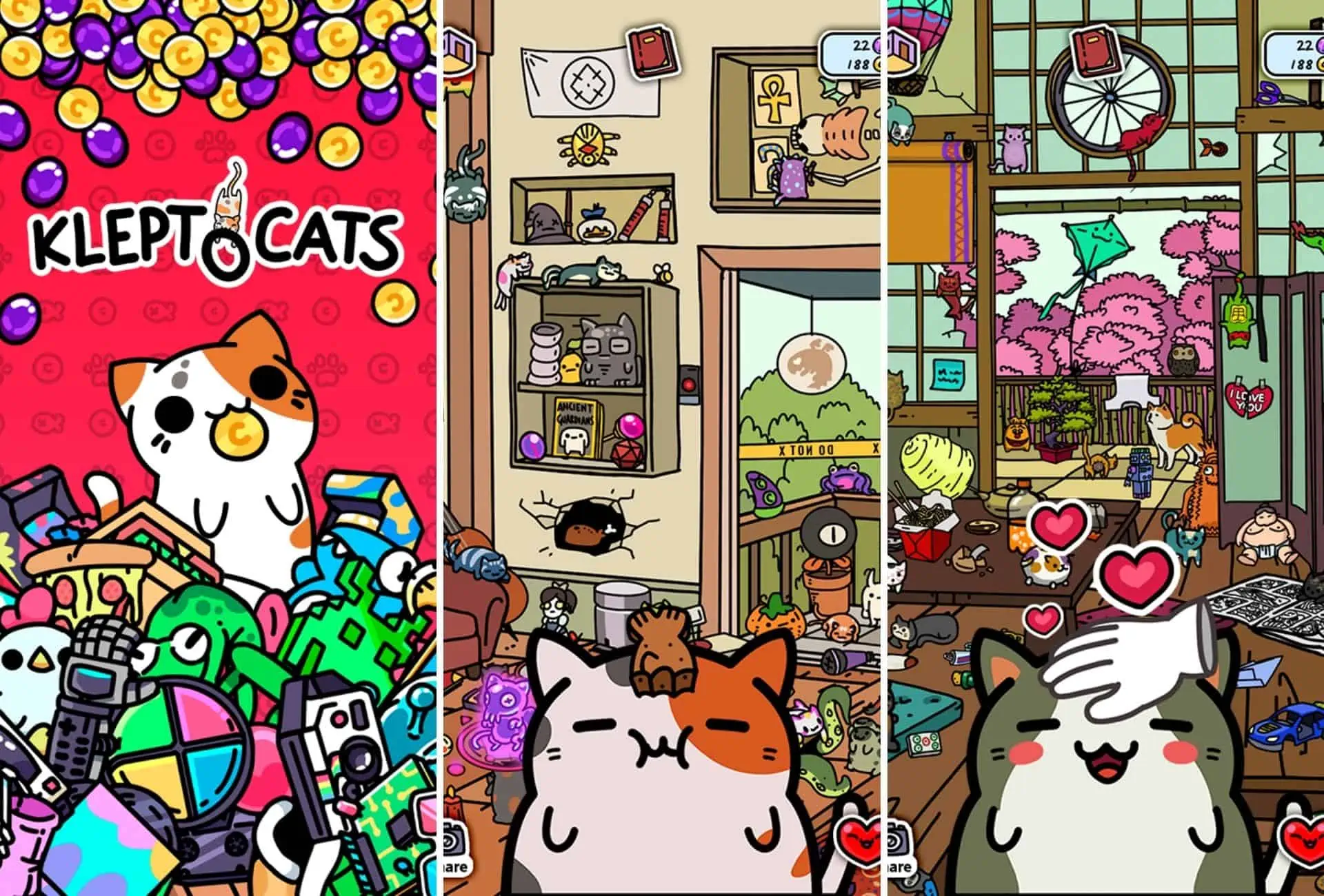 Klepto Cats is the perfect game for cat lovers that want to spend even more time caring for their favorite pet.
The kawaii aesthetic really takes this game to another cuteness level when you pet or treat your cats to raise their mood.
You can then send out your cats to collect/steal items and treasures for you which will fill your room up with collectibles.
To pass the time until your cats return, you can play small mini games that will earn you extra coins.
You can unlock new rooms that come with their own unique collectibles and mini games.
8. Spiritfarer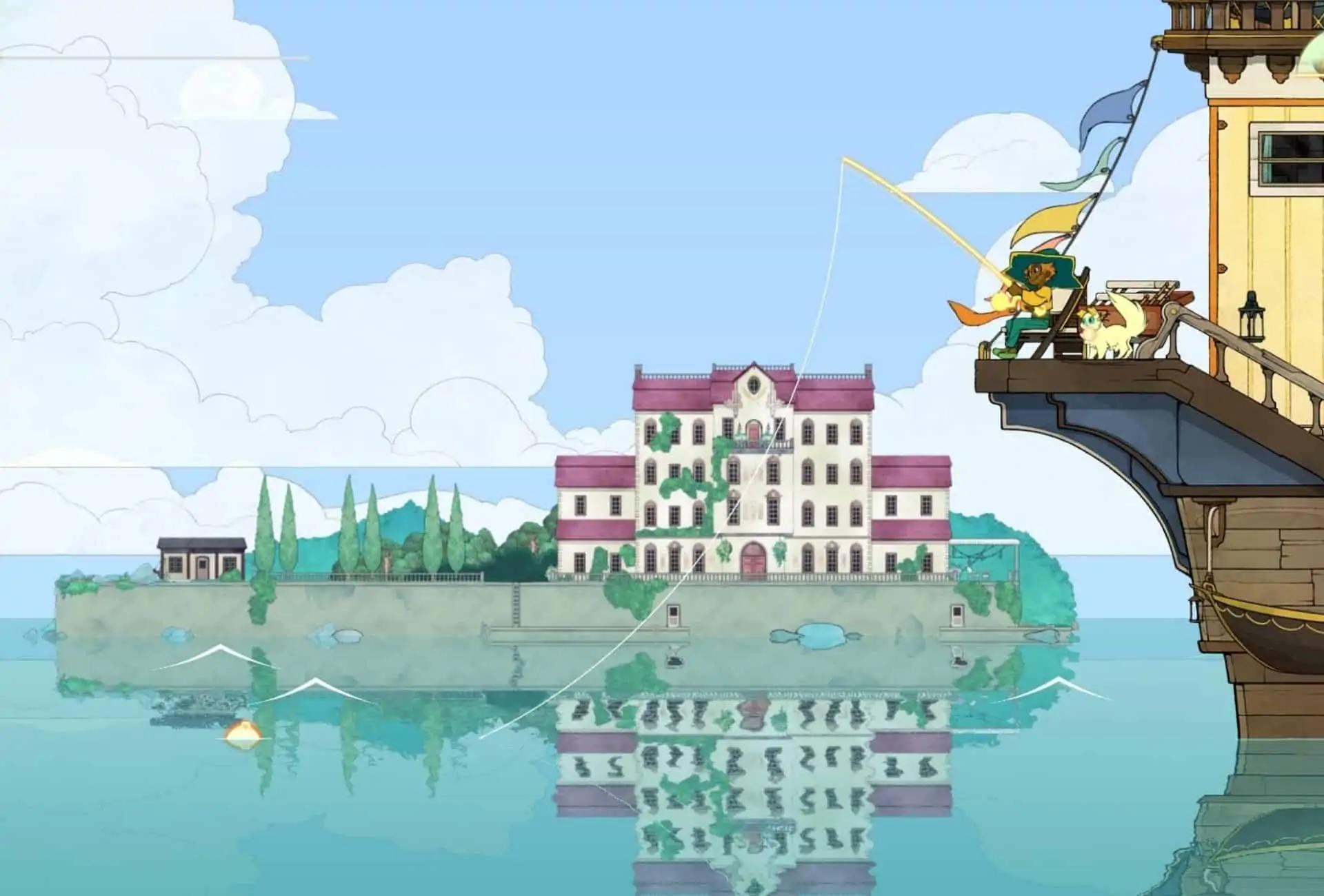 Spiritfarer is a heartbreaking game all about dying, death, and saying farewell.
Heavy topics that the game manages to quietly and respectfully weave into the beautiful graphic style and well-written characters.
As ferry master to the deceased, your job will be to guide them into the afterlife and fulfill their last requests.
A memorable game that will stay with you long after you have finished it.
9. Like a Dino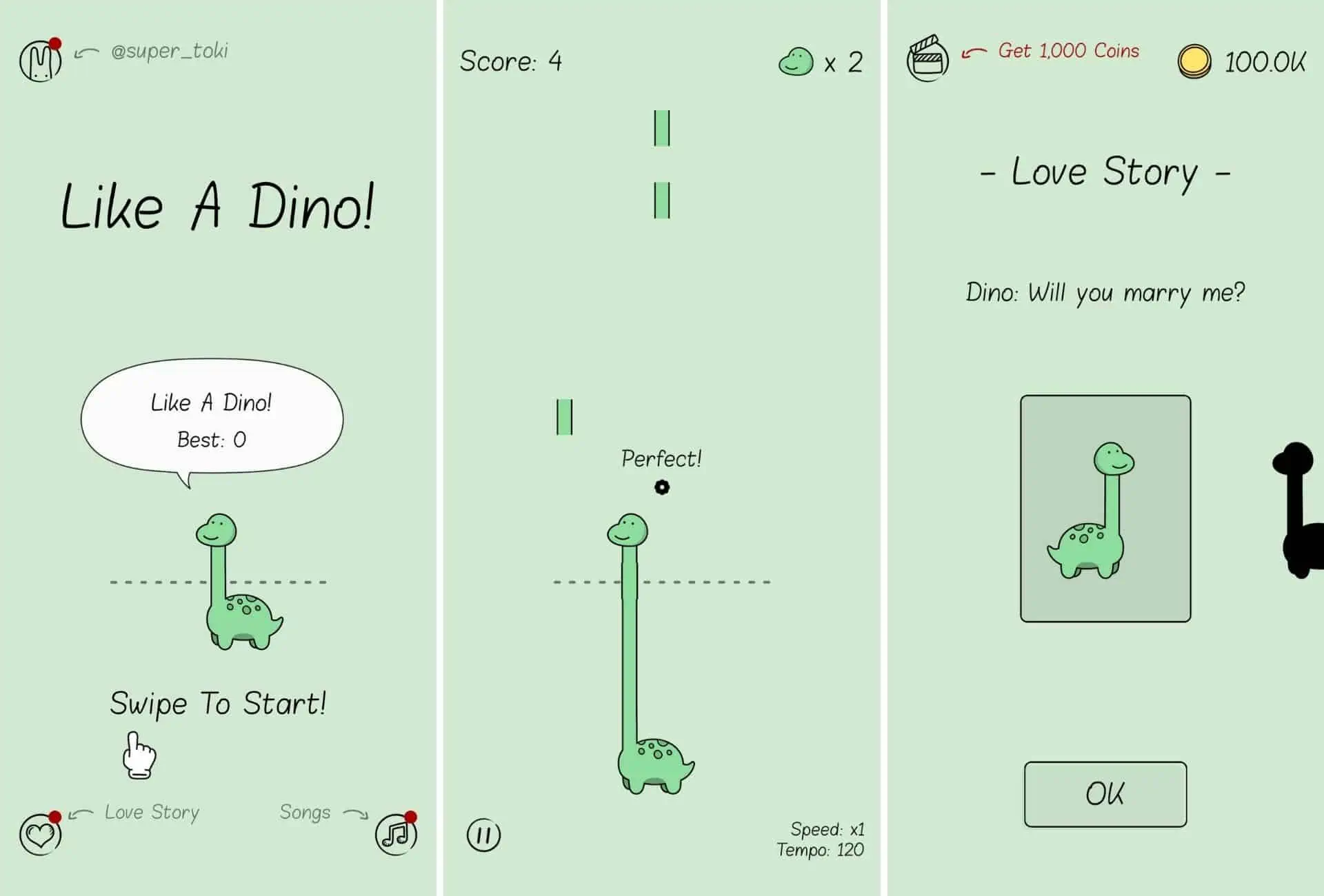 Like a Dino is a super cute mobile game that immediately puts you in a place of happiness.
It's super simple, easy to play and the only thing you have to do is listen to the rhythm of the song and slide the dino left and right to catch the green notes which will eventually make the neck longer.
The characters are super adorable and you constantly get words of encouragement throughout the game.
A super aesthetic mobile game that even comes with a little love story that you can follow in the shop.
10. To the Moon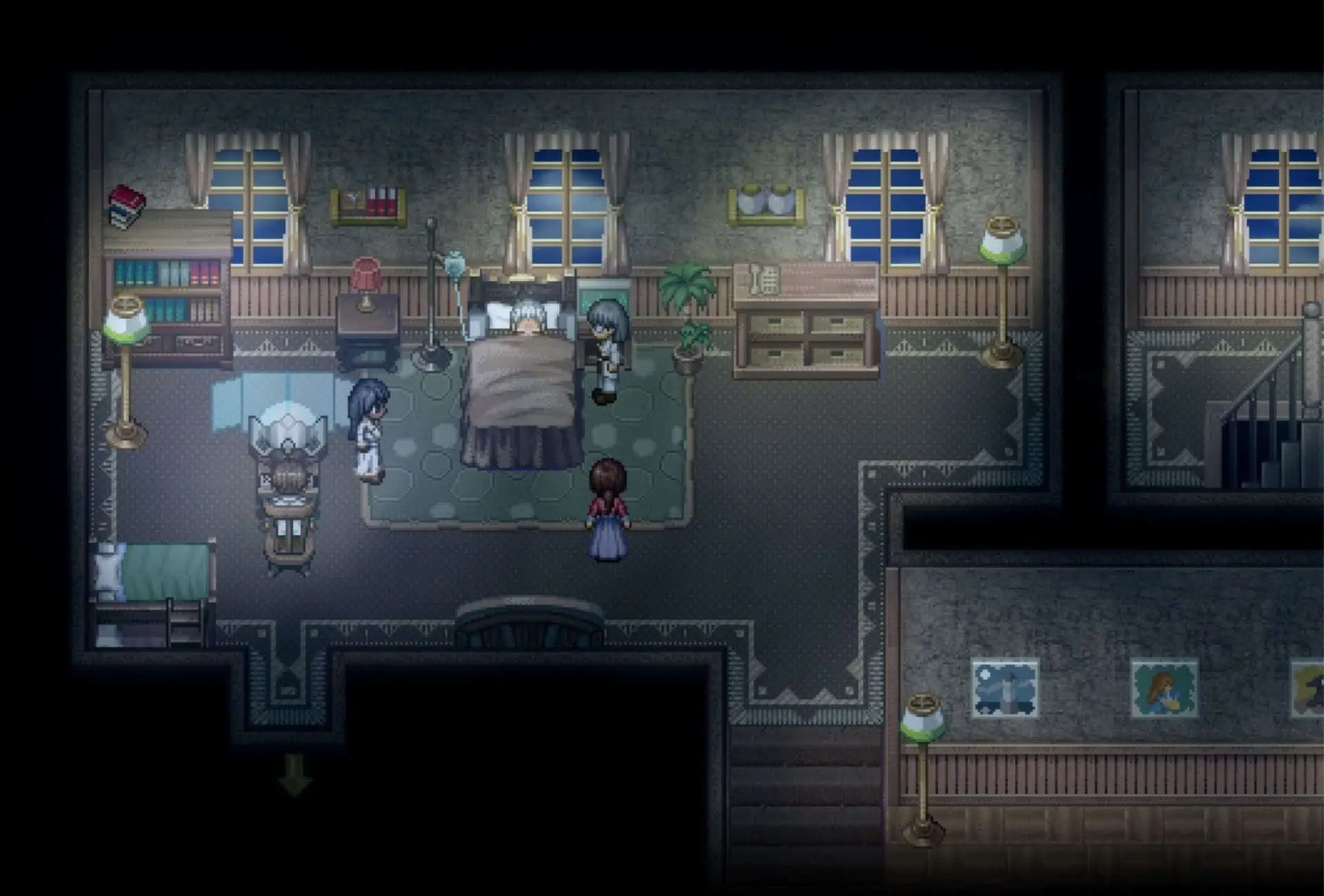 To the moon is the perfect game for a rainy, cozy day.
It has a compelling story, beautiful graphics, and calming music that really captures you.
Although it is quite emotional and will have you fighting back tears at the end, it's also really uplifting and thought-provoking.
Virtual Cottage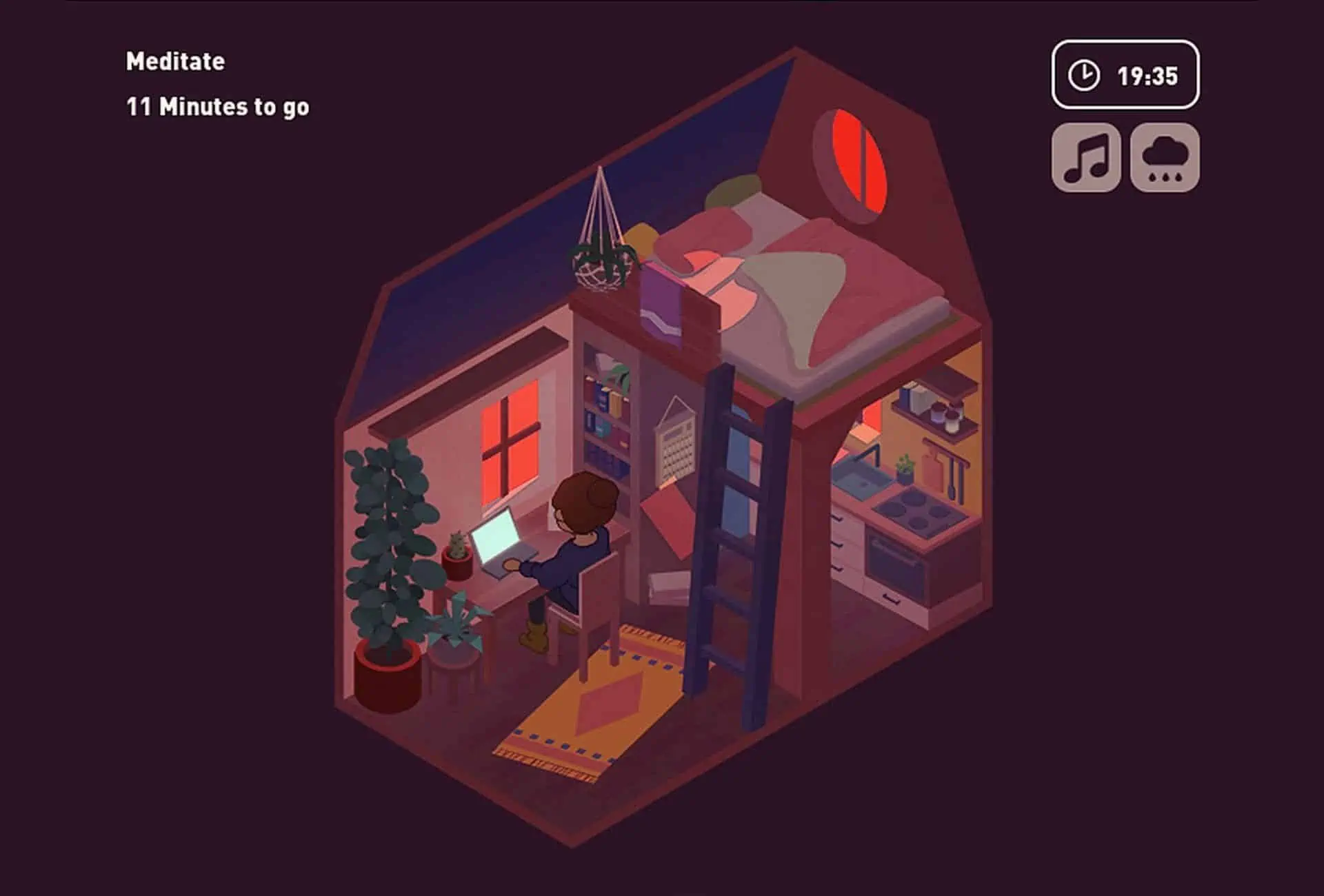 Virtual cottage is my honorable mention as it is not a game but rather a desktop app that I just had to share with you.
It is completely free and provides you with a comfy space that helps you get tasks done that you have been putting off.
You can set a timer, write tasks into your to-do list and listen to lo-fi music.
Using the environmental settings in your virtual cottage will give you the option of turning on the fireplace and changing the weather outside your window.
Just let it run in the background while reading, studying, or simply daydreaming.