Cottagecore is a style that has been around for many years.
It's characterized by a mix of traditional and rustic styles, with an emphasis on natural materials like wood and cotton.
It is perfect for those who want to create an inviting space in their home.
The idea of the cottage style is similar to what you would find at a cabin or lodge- simple, rustic, and cozy.
The kitchen in particular has to strike the balance between vintage-feeling and practicality.
This blog post will show you how you can achieve this look in your own kitchen without spending a ton of money!
How to Make Your Kitchen More Cottagecore
There are many simple interior design tools that you can use to make your kitchen fit the cottagecore style.
You don't have to go overboard with it and remodel your whole kitchen.
A few decor items and natural elements here and there will find a place in nearly any home and they can effectively transform the whole vibe of a room.
1. Colors
Most cottagecore farmhouse kitchens have a neutral, earth tone color palette with lots of beige, brown and grey.
Color accents come from green plants, herbs, red or green checks and stripes that are used on upholstery and tablecloths.
If you want to go for a cabin style, use more darker tones and if you would like to achieve a more airy and modern feel, opt for a lot of white and cream.
2. Natural Materials
Try to use as many materials from nature as possible while still having an aesthetically pleasing look in your kitchen.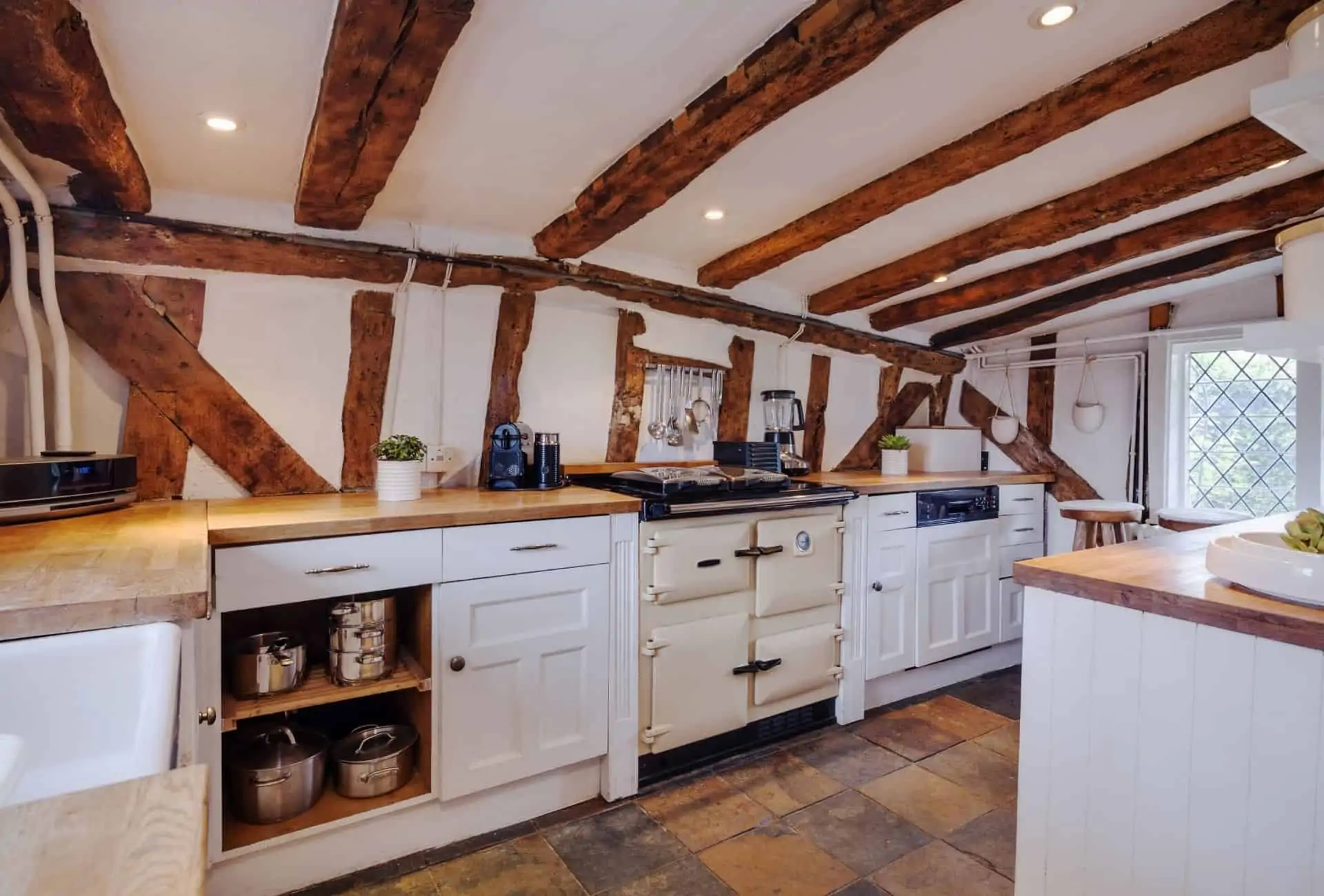 Wood is the perfect example because it looks rustic but can also be refined by adding other textures like metal and glass.
You could go for a lighter wood tone (think honey brown) with dark metals on the island or you could choose darker woods like walnut paired with metallic copper accents around the room!
3. Kitchenware
Instead of new kitchen gadgets, choose manual ones such as a vintage coffee maker or mortar and pestle.
Anything that looks too new and shiny will have a hard time fitting to the cottagecore theme we are going for.
Browse through your local second hand shop and look for vintage kitchenware that appears to be from another century.
This is where the cottage style gets its rugged feel from – think of old, chipped mugs that have been put to good use over time and an assortment of rustic dinnerware like mismatched plates in various sizes.
If you're looking for an extra way to add the cottage feel, try installing some simple shelves or hooks that can be used as drying racks for pots and utensils. You could even hang old quilts from these!
4. Hardware
Choose items for your kitchen such as knobs or drawer pulls that are antique hardware pieces you can find at flea markets or online!
They'll add an extra touch of character without breaking the bank.
When doing some research I stumbled across pressed floral pulls from urban outfitters that to me looked like the most beautiful and natural pulls I have ever seen.
You can impact the look of your kitchen a lot with different hardware pieces from iron handles to bronze knobs with a smooth, distressed or gold finish.
Twigs or wooden mushrooms also fit the aesthetic really well.
5. Organic Materials
Rugs, upholstery, table cloths, and curtains should be made from organic materials, such as linen, cotton, or wool.
Worn out items really add to the rustic panache of the kitchen.
6. Nature Inside
One of the best ways to make your kitchen more cottagecore is by bringing a part of nature from the outside into your own home.
This can be done by adding a few plants or even some spices to your countertops.
Especially vines like ivy or arrowhead plant look phenomenal when spread over windows and cabinets.
Flowers that have been freshly picked from the garden not only bring a burst of color to your kitchen but also a natural scent.
If you are allergic to flowers, you can also dry some between books and place them between to glass sheets to hang them alongside your walls.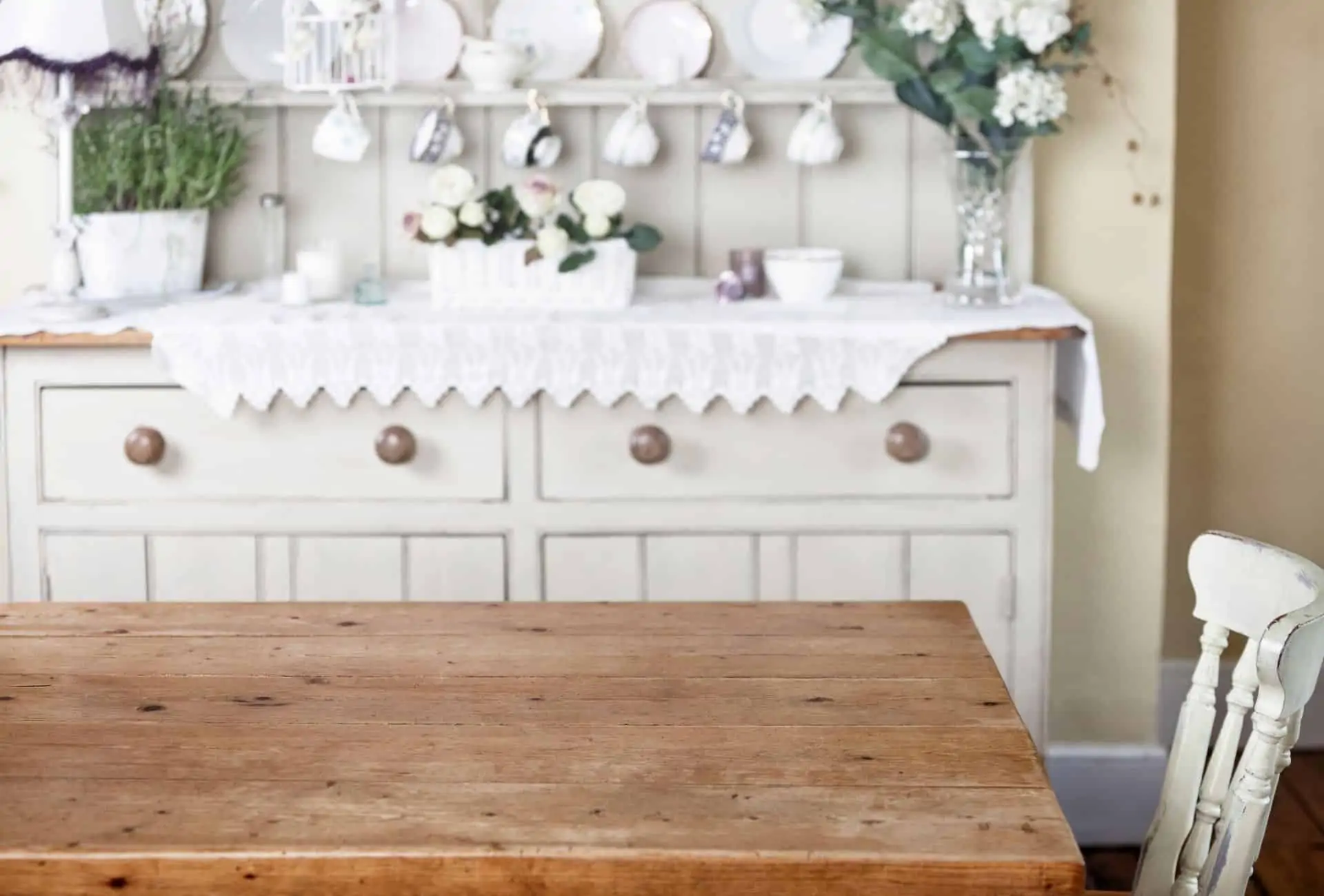 7. Gardening
Gardening is a big part of cottagecore and having a beautiful and romantic garden in front of your kitchen window definitely adds to the visual prettiness.
Cottage gardens may sometimes look a bit overgrown and chaotic but that's what gives them their charm.
You can plant whatever you feel like in your own garden whether you aim for a tapestry of color or you would prefer to grow your own food.
Common cottage flowers include lilacs, roses, peonies, and daffodils.
These can be used to make a beautiful flower arrangement for your kitchen counter or just as decoration.
Hollyhocks, for example, are a classic cottage staple and you can plant them alongside your home's walls.
8. Ceramics
A vintage china collection is the perfect addition to a farmhouse style dresser.
Displaying your beautifully and preferably handmade ceramics somewhere in your kitchen will give it that 17th century flare.
You can even do pottery at home and make your own ceramic dishes inspired by cottagecore themes and colors.
If you don't have the space for a whole dresser you can also hang cups by the handle alongside a wooden wall mounted board.
You may also want to place some antique ceramics in a kitchen cabinet with mullions for display.
9. Florals
I have already mentioned the magical influence flowers and plants have in your home and you can bring even more of them into your home.
Floral patterns can be added to your kitchen in the form of cushions, wall paper, curtains, and tablecloths for a super romantic look.
Small details can also be added such as patterned napkins, vases and candles.
10. Traditional Cooker
If you haven't finished your kitchen or you are planning on getting a new stove top, consider choosing a traditional range cooker that was being used in the 18th century.
Cast iron stoves were first produced in the 1640s and not only used to cook on but also heat the entire home during the cold winter months.
Adding a AGA will quickly transform your whole kitchen with its iconic design and warmth.
Let me know in the comments what you have changed or added into your kitchen to achieve the cottagecore style!