Halloween is on its way, and it's not long now until we start seeing carved pumpkins in our windowsills and spooky decorations adorning the houses down our streets.
In the lead-up to the spooky evening, our minds are filled with thoughts of trick or treating and scary dress-ups.
One character which might spring to mind: the classic witch.
While some of us find fascination in these characters exclusively on Halloween, others have a particular interest all year around.
If you're looking for the perfect witchy aesthetic, there's something for you.
Here's a complete guide to witchcore.
What Is Witchcore?
Much like most aesthetics, the name 'witchcore' offers a lot of information about what the aesthetic is before we even investigate.
As we see with many 'core' aesthetics, witchcore has its own ties to the cottagecore movement but is a lot different to the style's dainty, light and breezy vibes.
Essentially, it draws inspiration from witchcraft, often including ideas such as potion making and spell casting.
The aesthetic can also include elements such as gems and gem collecting, as these are also believed to have special powers.
Unlike the feelings of nostalgia promoted by cottagecore, witchcore is centred more around energy, self-growth, and the unknown.
It's more than just dressing up like a witch for a Halloween costume, and extends to an entire lifestyle of mystery and intrigue.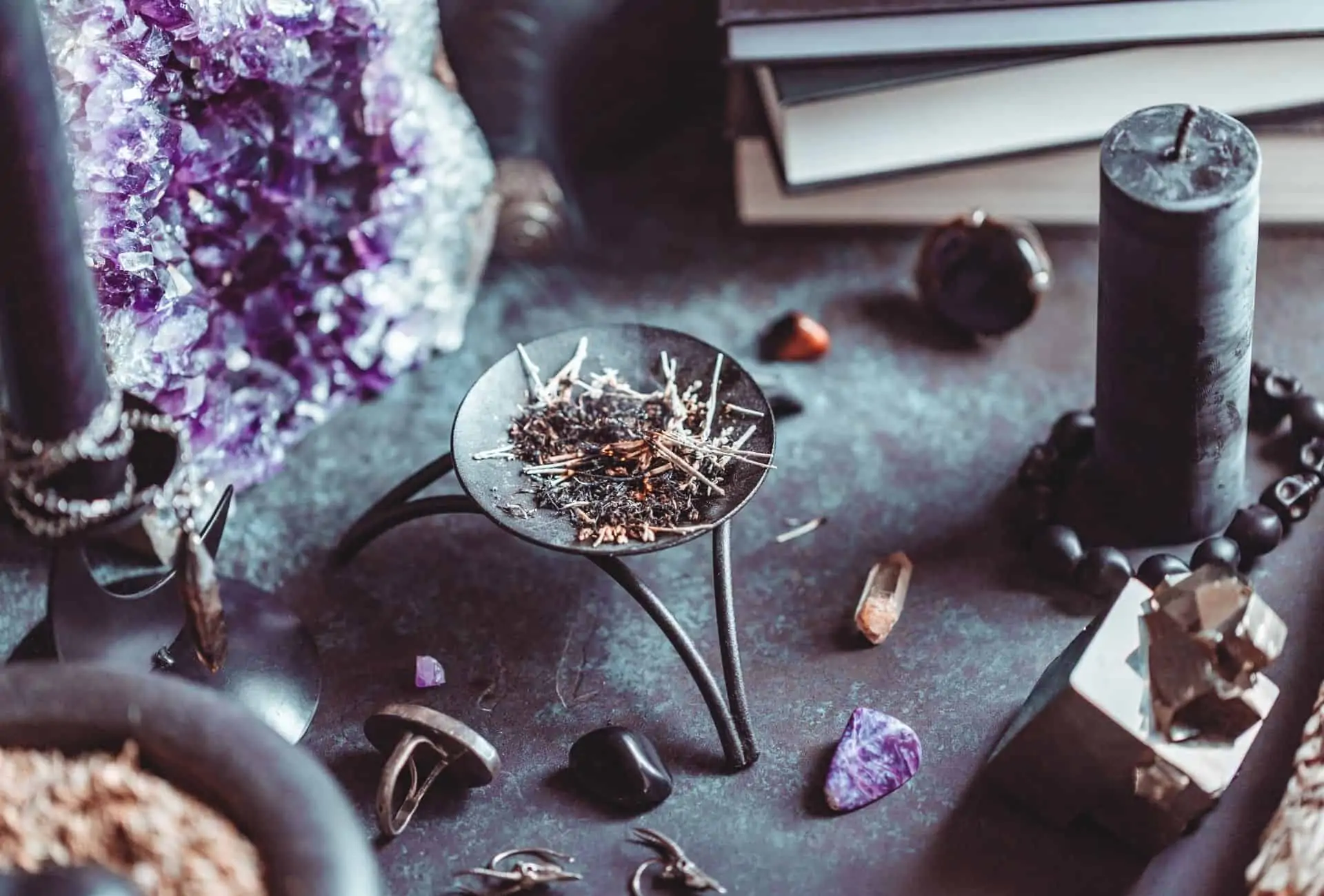 There are lots of ways to display the witchcore aesthetic in your life, and we'll discover these later.
Witchcore Visuals
The first element of the style we're going to take a look at is the visuals.
These visuals are a key aspect of the aesthetic, and they're what makes up the basis of the style.
Without visual components of witchcore, there's no way to create a visible sense of the style, and they're a way to promote the vibes and atmosphere of the aesthetic.
Not to mention, they can be a great starting point for building your interior and decoration around you to fill your space with a witchy atmosphere.
Generally, the main colours displayed through witchcore include black, orange, green and purple – the characteristic 'Halloween' colours, which are dark, dull and eerie.
The shadowy appearance of these colours adds to the spooky, mysterious characteristics of this aesthetic, and complements the appearance of other visuals.
There are lots of visual motifs within witchcore, such as:
Forests – something about the dark atmosphere has a spooky touch
Lanterns and candles – these are a more traditional light source, and they can have a very gothic appearance
Glass bottles – the bottles used for potions are the perfect visual for spells and witchcraft
Moss – this green fuzz, along with other similar plants, can help to recreate a gloomy setting
Mushrooms – these are the perfect combination between nature and magic, with connotations of fairies and pixies
Tarot cards – these visual clues about reading into the future have a lot to do with magic, and the supernatural
Crystals – charging crystals under moonlight and using their special properties for healing and protection is the ideal example of magic
Plants – once again, plants are a source of life and can bring healing benefits, too
Potions – of course, there's no way we could forget about potions, they're the epitome of witchcraft itself
Cobwebs – a little age and cobwebs is very gothic, so these slide perfectly into the theme
Wands – there's nothing more witchy than the tool used for casting the spells
Tea – remember those tea leaves which predict the future? Yeah, there's something unusual about tea
Skulls – these are a classic motif
Witchcore Clothing
When it comes to clothes, you're not limited to the classic black cape and pointed hat that you wore for Halloween as a kid – witchcore is a fashion style, and you can create a very stylish wardrobe.
Of course, the cape and hat outfit isn't too far off from the style, as it creates the necessary mystery and modest darkness.
In a nutshell, witchcore clothing is heavily influenced by gothic style and vintage pieces from the likes of thrift stores and other second-hand retailers.
Some of the clothing you could implement into your witchcore wardrobe includes:
Long, dark maxi dresses – in a similar way to a cape, a long dark maxi dress in a colour such as red or purple is gothic and modest
Lace detailing – small lace details on pieces such as camisole tops or slip dresses is an intricate addition which can set the tone for a piece, and add a dainty touch
Creepers and laced boots – especially in dark colours, these shoes are bold and slightly intimidating, and they have a dark, curious style
Flower crowns – is there anything more whimsical than wearing a flower crown in the forest?
White vintage dresses – large, ivory dresses are whimsical and free, and can still have that gothic, magical quality
Bare-feet – as well as boots, bare feet are a more carefree, relaxed and bohemian look.
Witchcore Décor
Another fun area to explore within this aesthetic is the interior designing and décor aspect – your outfit is one way to express your style, but decorating the space which surrounds you is another.
Decorating your room or even your entire home is a great way to strike the feeling and atmosphere of comfort and can immerse you further into witchcore.
Here are some ways to decorate your space:
Tarot cards – I've already mentioned these cards are a strong visual within the aesthetic, and showcasing them in your home makes the most of them
Apothecary scenes – setting up bottles and similar decorative pieces can create an apothecary-like scene which can be a great use of space
Gold games and mirrors – gilded gold frames and similar decorations can have a very victorian-style effect
Velvet textiles – dark velvet colours have a luxury feeling and appearance, and they fit the dark aesthetic of witchcore
Plants – as plants are another great visual, why not adopt some succulents or other houseplants to display in your space
Candles – covering your space with candles and lanterns gives out a cozy, classic warm light that'll complement the dark colours in your witchcore-inspired home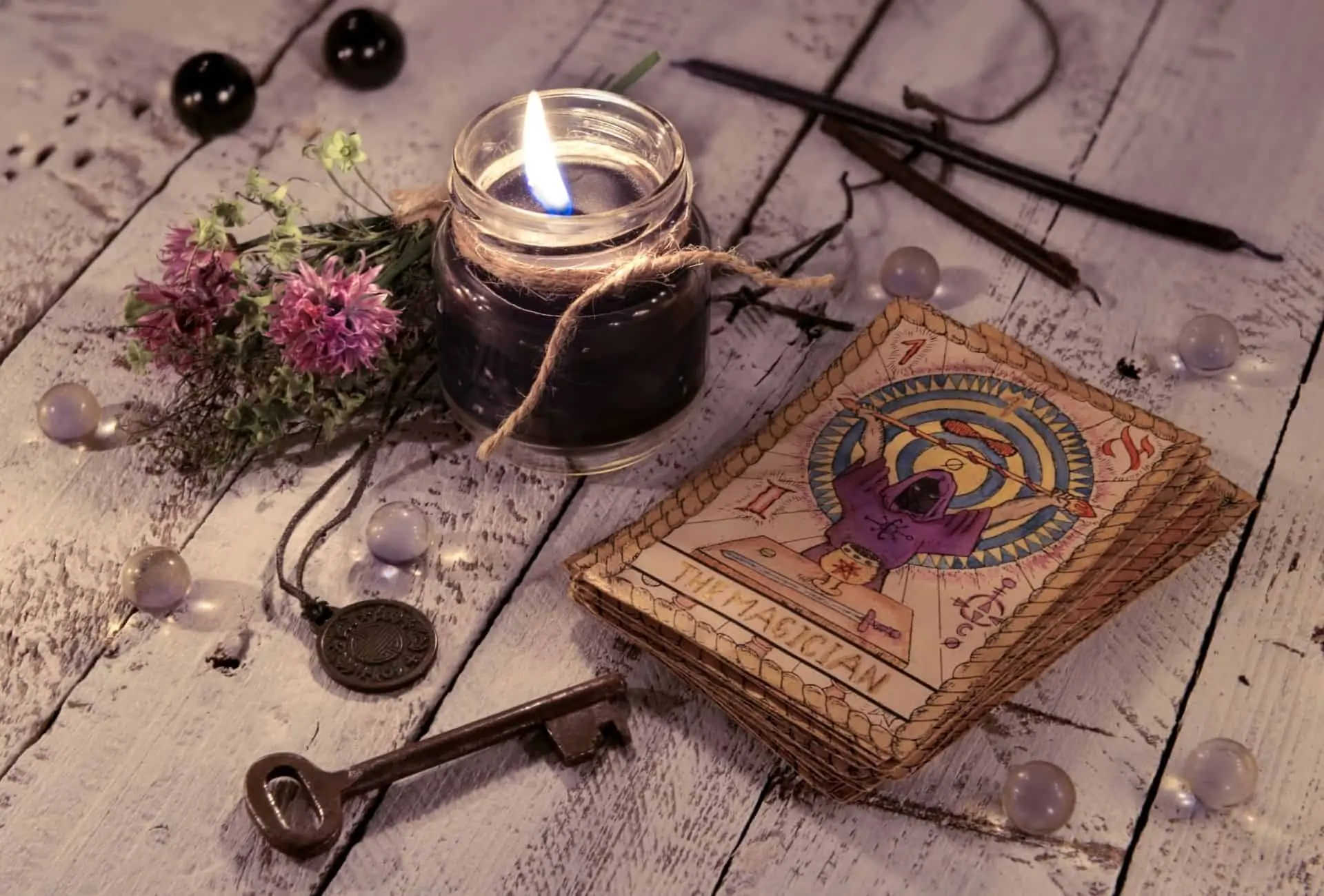 Witchcore Activities
Coming away from the visual side of things, witchcore also opens up lots of ideas in terms of activities.
Of course, it's up to you how you choose to spend your time, but there are a few starting points you may like to begin with.
At the same time, any activity can constitute for witchcore, if it relies on the same beliefs and principles as the aesthetic, and follows its theme.
Watching Witchcore Movies
There's nothing like watching a film if you want to strike a certain sense or feeling.
Setting the mood and scene, with low lighting, and watching a witchcore film, can offer a surreal experience and even increase your interest in the aesthetic.
Learning about Potions and Spells
If witchcore is centred around and influenced by witchcraft itself, is there any activity better than learning about the exact inspiration you're working off?
Take time to read books and blogs about potions and spells, and learn how you can do them yourself.
Charging Crystals
Another magical activity you can do is charging crystals, and learning about what different crystals can offer and how they'll protect or heal you.
Crystals are something that many people enjoy learning about, so it's worth trying.
Spend Time in the Woods
The forest is a mysterious, eerie place to spend time in, and it's the perfect setting for any witchy activities.
Spending time in the gloomy lighting amongst nature, even just for a walk, fits the witchcore aesthetic well.
Witchcore Media
Finally, it's time to take a look at witchcore media.
I've already mentioned that watching films that fit the aesthetic is one good way to immerse yourself in witchcore, but that's not the only form of media.
From books to films, there's something for everyone, and you can even coordinate your entertainment around the aesthetic.
Here are some ideas:
Films:
Harry Potter
Hocus Pocus
Kiki's Delivery Service
Fantastic Beasts
The Craft
Matilda
Gwen
Practical Magic
The Witch
I Married a Witch
The Blair Witch Project
The Wizard of Oz
Rosemary's Baby
Eve's Bayou
Maleficent
Books:
Circe, Madeline Miller

Harry Potter

All Souls Trilogy, Deborah Harkness
The Green Witch, Arin Murphy-Hiscock
Practical Magic, Alive Hoffman
The Once and Future Witches, Alix Harrow
The Year of the Witching, Alexis Henderson
The Complete Book of Incense, Oils and Brews
The Witching Hour, Anne Rice
Beautiful Creatures, Kami Garcia