Cottagecore is everywhere you look online. From your TikTok FYP page to various Pinterest boards.
It's easy to think that the trend has come out of nowhere – but it's slowly been gaining momentum online in recent years.
As you've landed on this article, chances are that you're looking to explore the world of Cottagecore fashion.
This whimsical aesthetic is a lifestyle trend that we've all fallen head over heels for.
It blends a Jane Austen aesthetic with vintage-inspired fashion to find joy in simple designs and silhouettes.
Cottagecore is a sub-culture and a way of life that is quickly gaining attention in the mainstream.
Many brands are finding a way to incorporate cottagecore fashion into their collections.
This guide takes you through the basics of Cottagecore fashion, including where to shop for the best Cottagecore fashion and how to wear it.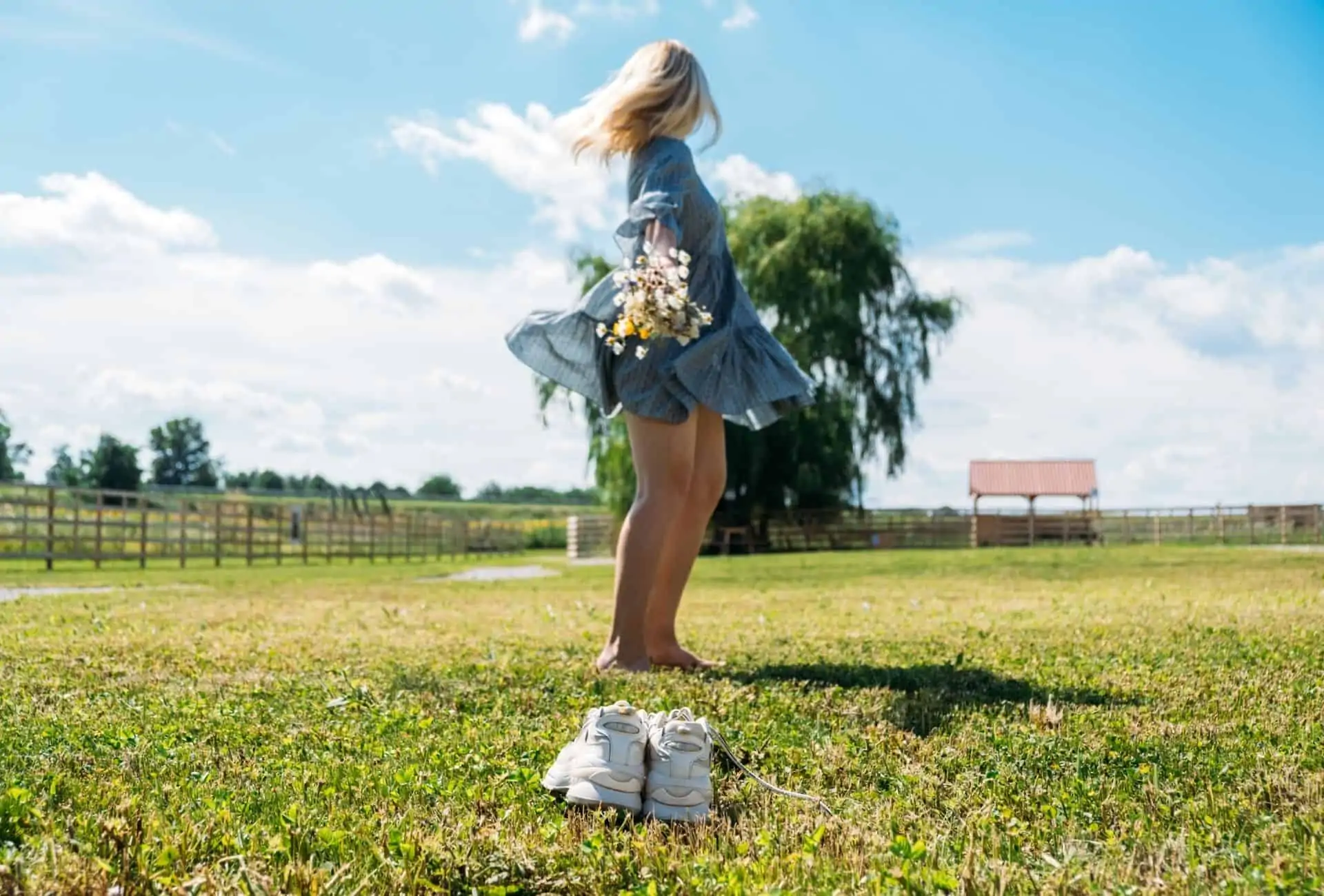 What is Cottagecore Fashion?
Cottagecore is often compared to naturecore, as they both draw on the idea of reconnecting with the world around us and finding joy in the simple moments.
It first started to gain attention on social media platforms like Tumblr and Instagram in 2017.
Since then, this lifestyle aesthetic has surged into the world of fashion.
When you think of cottagecore, floral prints and earth tone color palettes instantly spring to mind.
Imagine what a character in a Jane Austen novel might wear, and you won't go far wrong.
If you look up the definition of cottagecore, you'll see that it's based on a romanticized ideal of rural life. It's characterized by its softness and simplicity.
This 'soft' aesthetic started to gain momentum in 2020, during the early days of the pandemic when we were all looking for forms of escapism.
Cottagecore fashion is simplistic, yet effortlessly chic.
The aesthetic is built on the idea of the beauty of the countryside, nostalgia, and artisan design.
Most followers of cottagecore draw their inspiration from the English countryside.
What attracts people to cottagecore fashion is that it captures your imagination and has a strong sense of wistfulness.
You can think of it as an instant serotonin boost.
Taylor Swift's album 'Folklore' showed how powerful cottagecore fashion can be on your imagination.
After the album dropped, cottagecore fashion became even more popular.
Cottagecore fashion is interlinked with the concept of romanticism.
If you look at the fairytales that have inspired the aesthetic, cottagecore takes a picturesque view of them.
Another part of the inspiration behind cottagecore fashion is vintage fashion, particularly of the 50s and 60s. It might just be time to dig around your grandma's closet.
Followers of cottagecore fashion have even penned the term 'grandmillennial' to describe their aesthetic.
It has also sprung other similar style aesthetics, including fairycore and light academia.
Both styles have the same light color palette and simplicity as cottagecore.
Within cottagecore fashion, there are specific sub-cultures and inspirations. Bloomcore focuses on floral prints and gardens as its muse.
Southwest cottagecore is a blend of the earth-tone color palette of cottagecore with a whimsical, wild west-inspired look.
With the popularity of dark academia, it's no surprise that 'dark cottagecore' has become a movement in itself.
It takes the classic elements of cottagecore and focuses on a darker color palette.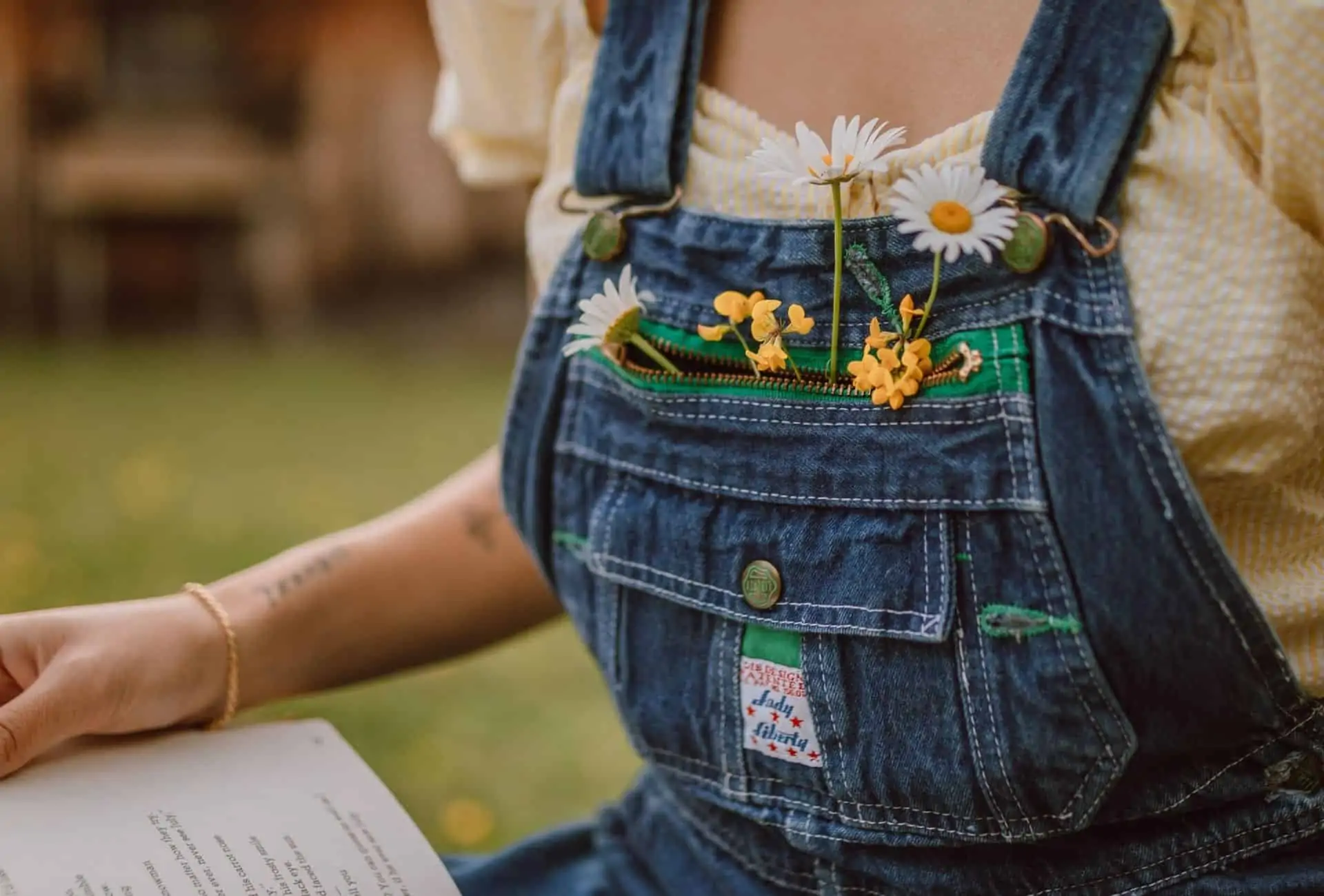 How to Dress More Cottagecore
The beauty of cottagecore fashion is that it's easier to embrace than you think.
It's all about simplicity and experimenting with a soft color palette.
I will be sharing a few of our favorite styling tips to help you add a touch of cottagecore to your closet.
Whether you're jumping in at the deep end or giving the trend a try, these are the outfits you want to try.
While gingham and floral prints are everywhere you look within the world of cottagecore, minimalistic shouldn't be put off.
Neutral and earth-tone shades are just as popular, making them the perfect investment pieces.
Solid earth tones like moss, sage, and beige are classic shades that you want to use to create the bulk of your closet.
These pieces can be at the heart of your outfits, giving you a neutral base to help colorful accessories pop.
Neutral and earth tone shades work for every season, creating a transitional closet that will see you through every event on your social calendar.
Pastel tones will be perfect for the summer and really reflect this romantic aesthetic.
If you're a fan of prints, look out for florals and stripes in classic pieces to add to your closet.
Embroidery is another signature of cottagecore fashion that adds instant femininity.
When the temperatures start to drop, you can swap out your dresses for jumpsuits to get the same look.
Jumpsuits are just as comfortable as your favorite loungewear set while giving you a classic cottagecore look.
Accessories are one of the easiest – and most affordable – ways to jump on the cottagecore bandwagon.
Straw and raffia are your best friend in the cottagecore world.
Look out for straw hats, raffia beach bags, and wicker accessories that help you reconnect with nature.
These accessories are a must-have for spring and summer, adding an instant touch of cottagecore to your look.
Other subtle ways of adding cottagecore to your outifts include wearing the right hair accessories.
A silk ribbon is a timeless look that is both chic and whimsical. Velvet headbands and floral clips can give you the same aesthetic.
When you're shopping around for clothes, keep an eye out for puff sleeves.
They're one of the most popular trends within cottagecore and make you look like you're straight out of a fairytale book.
You'll often find puff sleeves on peasant-inspired dresses and shirts.
These garments are easy to style up or down with your everyday accessories – whether they're contemporary or cottagecore.
One piece that you need in your cottagecore closet is a floaty, loose-fitting dress in a light pastel shade.
Details like lace, pearl, and ruffles are a must have.
One element of cottagecore fashion is that it offers style without compromising on comfort.
These clothes have a coziness to them that feels like a warm hug.
The focus on loose-fitting silhouettes includes oversized outerwear with large pockets and puffy sleeves.
Though you'll still find plenty of corset-inspired dresses within cottagecore fashion, especially when it comes to wedding dresses.
As summer changes to autumn, knitwear replaces lightweight dresses.
Just imagine the oversized knit that Taylor Swift wore for her 'Cardigan' music video.
Cottagecore isn't just a fashion trend – it's a lifestyle aesthetic.
If you are interested in adopting a more masculine version of cottagecore fashion, then make sure to check out our cottagecore fashion guide for men.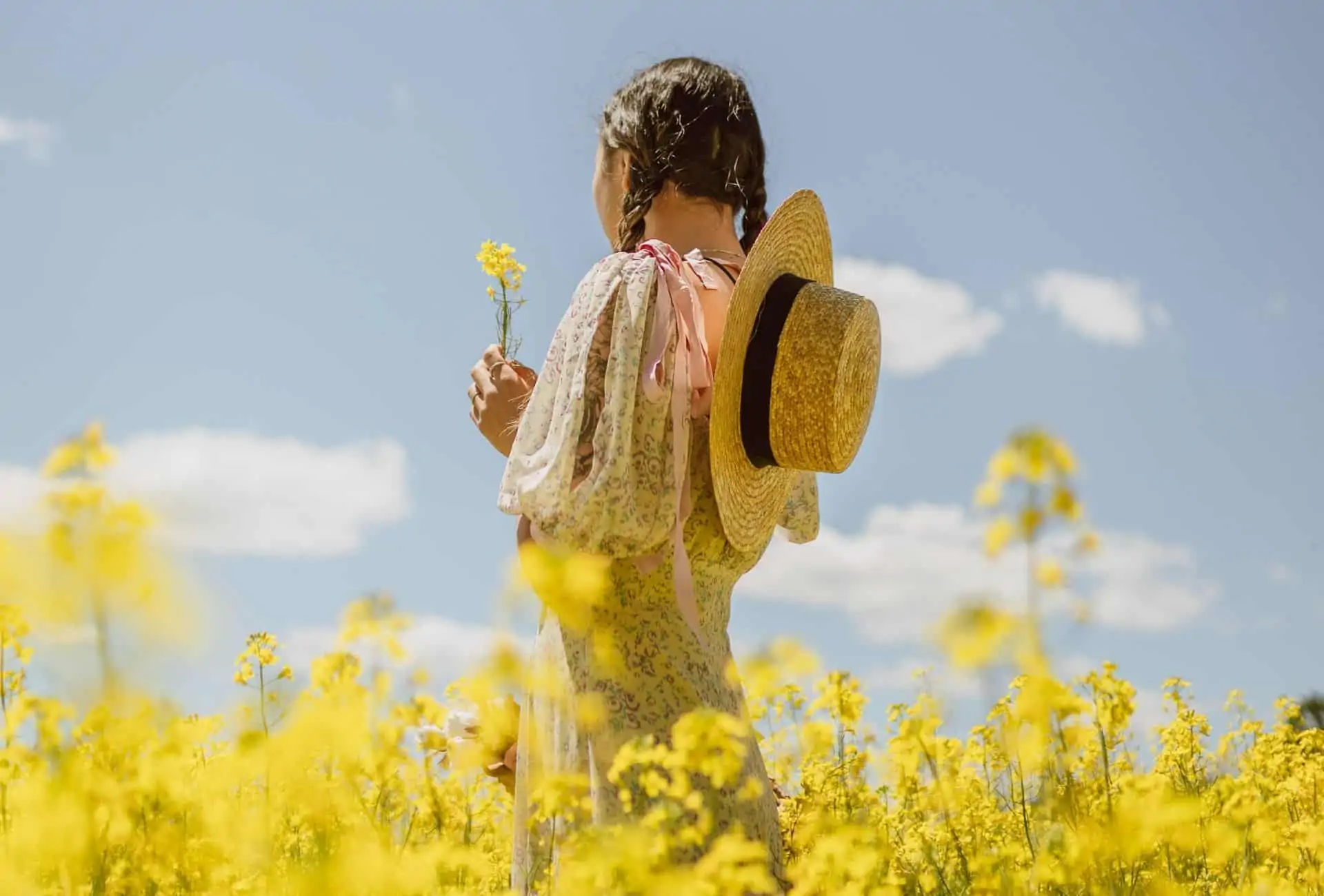 Best Cottagecore Fashion Brands
With cottagecore fashion jumping into the mainstream, it's no surprise that there are dozens of brands that cater to the aesthetic.
Whatever your budget is, there is a cottagecore brand out there for you.
Hill House Home is amongst one of the first cottagecore fashion brands to go viral.
Their nap dress has a cult following on social media and even counts royalty amongst their fanbase.
These dresses perfectly encapsulate the simplicity, femininity, and wearability of cottagecore fashion.
They're a must-have investment to your closet, with seasonal patterns being released.
If you're on a budget, don't overlook high-street stores like Zara.
These brands make a point of jumping on the latest trends and creating affordable dupes for designer pieces.
You can stock up on dresses, knitwear, and basic neutrals to form the foundation of your everyday cottagecore closet.
Etsy is one of my favorite places to look for cottagecore fashion accessories.
You can find everything from French basket bags, handmade with Moroccan straw to the most beautiful puff-sleeve dresses.
If you're looking for unique pieces, don't forget to check out vintage brands on Etsy and in-person thrift stores. You might just find your new signature piece.
Cottagecore has a focus on sustainability, with most brands incorporating ethical manufacturing and eco-friendly materials.
It's no surprise when you think of how important nature is to the lifestyle.
Faithfull the Brand is a woman-owned label that promotes the idea of long-lasting clothing that is made to stay in your closet for years to come.
Their handmade clothing comes from talented artisans in India.
Reformation is one of the most popular fashion brands in the U.S.
They're committed to being climate-neutral and use sustainably sourced fabrics and dyes.
You'll find dozen of cottagecore styles amongst their recent collections.
Boden is a British brand with a global presence and an ethical supply chain, using sustainable cotton and eco-friendly sourcing for its materials.
It captures the English countryside aspect of cottagecore fashion perfectly.
Cottagecore is all about adopting a slower lifestyle, taking more thoughtful steps every day to improve your quality of life.
Don't overlook these sustainable fashion brands and those that focus on slow fashion.
The beauty of cottagecore fashion is that you can personalize it to your style.
It represents something unique for everyone.
With its different sub-genres, you can put your own twist on cottagecore fashion and make it your own.
At the heart of the aesthetic is simplicity and disconnecting from mainstream trends.
With the help of cottagecore fashion, you can find joy in everyday life.