Cottagecore is taking over, and it's not just the fashion world that's been conquered – the aesthetic can be developed throughout your lifestyle as well as the way you decorate your home.
While it may seem like a daunting task, renovating your home and redecorating it to fit the cottagecore style isn't too difficult once you know where to start.
Here's how you can bring cottagecore to your very own living room.
How to Make Your Living Room Cottagecore
Of course, decorating your home to suit a certain vibe or aesthetic isn't a one-size-fits-all process, and it's rather about self-expression and development.
Sure, you may see a cute photo of a cottagecore-inspired room on Pinterest, but nothing will make you quite as content as something you came up with yourself.
Nevertheless, it's always helpful to have some pointers and somewhere to start, so here are ten ideas of how you can bring the cottagecore style to your living room, which can be tailored to fit your own needs and the space available.
1. Shake Up Your Colour Palette
The single thing which can arguably have the biggest impact on your space is the colour palette you surround yourself with.
Colours can strike any different mood, and the right palette can synchronise an entire room by complementing the other elements of the space.
When it comes to cottagecore, your colour palette can make or break the space you're working on.
Here, it's something which should be kept simple and chic, with the use of light, airy colours such as off-whites and creams, but avoid a bright white as this can look too modern at times.
You may also want to throw in some browns and other natural colours as you incorporate natural elements, and greens, blues and yellows can all work in harmony throughout your living room, too.
If you stay close to pastels and soft hues, you should be safe.
2. Create a Flower Centrepiece
The cottagecore aesthetic is a style that is nostalgic and celebrates a simpler time, romanticising the lifestyle in a rural area, surrounded by nature.
One of the most beautiful parts of nature is its flowers, and the flora you can find all around you.
Even if you live in a city, nowadays you can still find flowers planted in window boxes or wrapped in bouquets, being sold in shops.
And no matter what the rest of your space is like, a centrepiece of fresh flowers will vitalize the space and add a pop of colour.
Just find a suitable vase (especially something vintage) and pop them on a side cabinet or coffee table – somewhere visible so they can be appreciated by everyone who walks by.
3. Integrate Natural Elements
As we've mentioned, the core focus of cottagecore is to appreciate our natural environment and reminisce about the past.
And to fit this style, there's nothing better than bringing nature indoors, but integrating natural elements and materials into your home.
This may be something as grand as natural wood flooring, or perhaps something a little simpler, like some hessian string detailing your decorations.
Another example of this is opting for vintage wooden furniture, and we'll talk a little more about this later.
Whatever you choose, the more natural and earthy the room feels, the better job you're doing of implementing the style.
4. Find Vintage Furniture
As we just touched on, vintage furniture is a brilliant way to add some structure and practicality to your living space and comes with a lot of benefits.
Obviously, the first advantage of using vintage furniture is that it's exactly what you're looking for – something well-loved and nostalgic.
Along with this, vintage furniture can be more cost-efficient, which makes it easier and more accessible when it comes to renovating your living room.
And lastly, vintage furniture is more environmentally friendly, as you're using something which would otherwise be wasted, and that is not only a current, important point, but also relates to the idea of appreciating the natural world, expressed in cottagecore.
5. Vintage Fabric Upholstery
It's no secret that replacing all your furniture at once isn't always viable and pretty wasteful, but that's not the only way you can find furniture to fit your space.
If you've already got pieces that work practically, but just don't suit the cottagecore style, this is the perfect solution for them.
It's cheaper to have furniture, such as your sofa or armchairs, re-upholstered (either professionally or by yourself).
You can find vintage fabric or vintage-inspired fabrics, and it's good to look out for patterns with floral motifs, as these tend to be the most effective.
Once your piece has been upholstered, it'll be like a totally different item, and you can be certain that it fits in your living room.
Once again, this is also a more environmentally conscious option when it comes to revamping your living room, as it repurposes your furniture instead of throwing it away.
6. Make It Comfy
As well as upholstered furniture, there are other ways you can bring different textiles into your home, and the more soft furnishings you've got, the warmer and comfier the space will feel.
An obvious option to go for is a throw or blanket, and this can be tossed on your sofa or chair to warm you up on a chilly evening, and it can also be selected to match the rest of your interior, making it a décor element when not in use.
Along with this, consider some vintage-patterned throw pillows; you could even have these made in the same fabric as your sofa.
There's also the option of a rug if you've got wooden or tiled floors, and this will add depth and interest to your space.
7. Display Cottagecore Artwork
Artwork is a go-to decorative option in most spaces, regardless of the style you're going for, as you can find pieces in any style you choose.
In this case, it may be worth finding some nature-themed paintings or other pieces of artwork, created using a medium such as oil paints which has a retro appearance.
If you manage to find a collection of artworks, you could display them all around the room to create consistency through the living room.
Paintings aren't you're only option, and another cottagecore specific type of artwork worth taking a look at is embroidery.
You could even create this yourself as part of a DIY project or purchase a piece that's ready to display.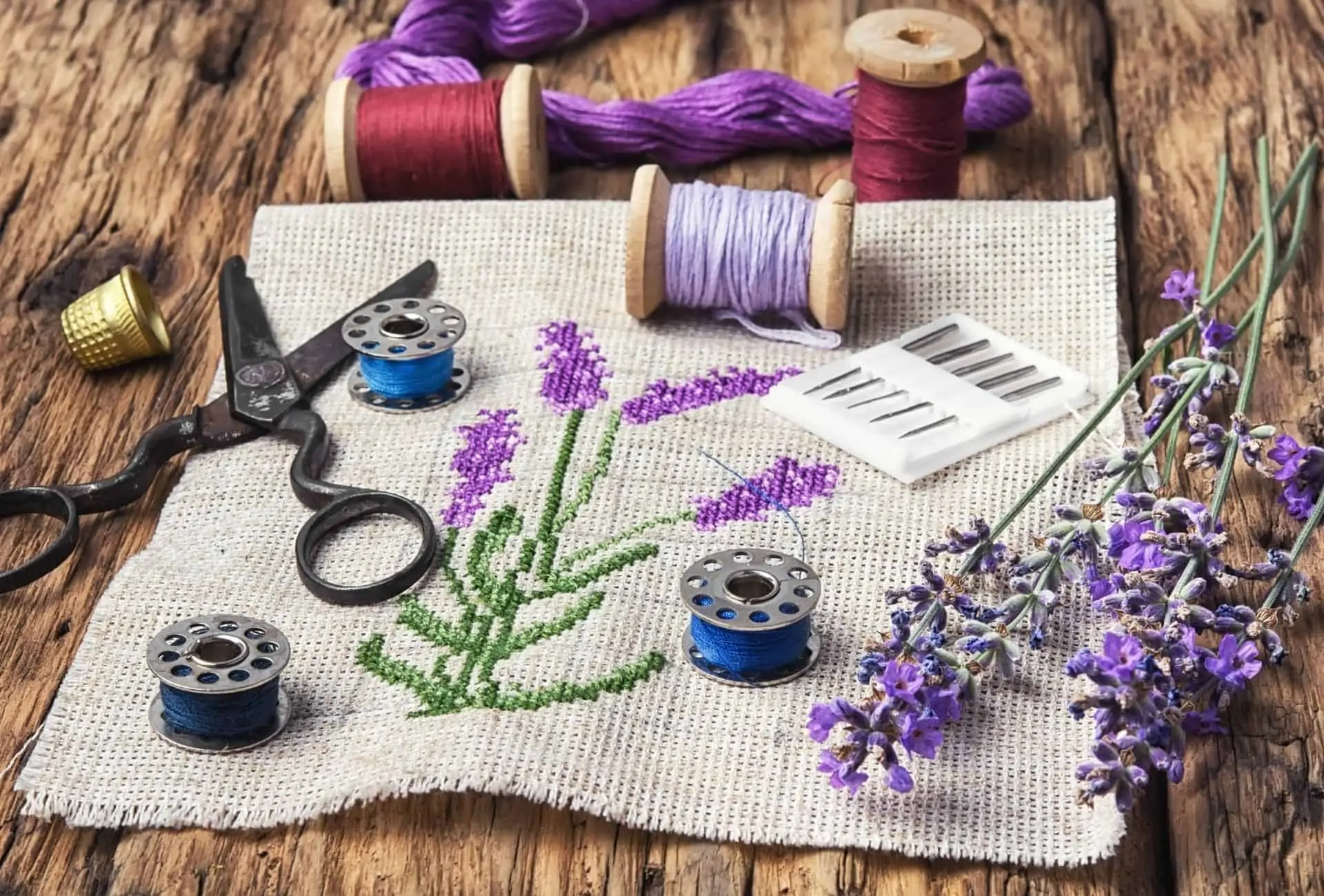 8. Dainty Wallpaper
Painting your walls is one way to balance the colour theme within your living room, but it's not the only way to decorate the walls.
Wallpaper is another method you could use here, and it's easily customisable to suit your desired outcome.
Whether it's something dainty and floral that covers one accent wall, or a subtle monochromatic print that covers all your walls, that's up to you.
One thing to do before having the paper applied is to get samples and compare them to other furnishings and colours within your living room already.
You don't want to pick something that's too noisy and busy, otherwise, it'll be overwhelming.
9. Lay Out Vintage Books
Vintage books, whether you read them or not, are an inexpensive yet effective and incredibly easy way to add some character to your living room.
Look for classics that have been bound in vintage-looking covers.
You could either leave these out stacked in a small pile, or leave one open on the side, exposing the printed pages and dainty font.
10. Indoor Plants
Finally, there's no way you can forget to display a collection of indoor plants when decorating a cottagecore-style room.
Bringing the outside in is the main aim of this part of the decorating process, and it's essential to fully maximise the cottagecore aesthetic.
It's your choice whether you decorate with large floor plants or small herbs along your mantlepiece but make the most of those leafy greens inside your living room.
Not to mention, they'll do wonders when it comes to refreshing the room.